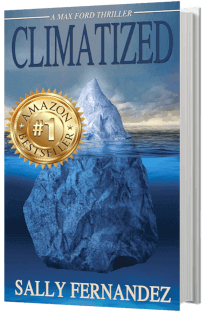 Vincent Zandri, New York Times Bestselling Author…
"Sally Fernandez's political thriller Climatized might be frighteningly timely and dare I say it, realistic. It is also frighteningly well written. I suspect we will be enjoying a lifetime of Max Ford thrillers. Question is, how long have we got?"
Reviews:
Climatized: A Max Ford Thriller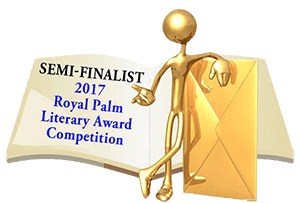 By Sally Fernandez
JANE FINCH, Readers' Favorite, 5-Star Review  "Climatized: A Max Ford Thriller by Sally Fernandez follows the story of Max Ford's first investigative case as a private investigator. Senator Sherman Spark dies mysteriously and his wife, Isabelle Spark, refuses to accept the official version that her husband committed suicide. Max takes on the case and finds herself embroiled in a conspiracy she could never have imagined. Three scientists coincidentally die, all three due to give evidence relating to climate change and global warming. When a fourth scientist goes missing, Max realizes that his testimony holds the key to the unbelievable and complex conspiracy that is unraveling before her eyes. She sets off on a quest to find the fourth scientist before he, too, is disposed of. What she discovers is for the president's eyes and ears only, but can she get the information to him without losing her own life in the process? Climatized literally starts with a cliffhanger and builds intrigue from the outset. The characters are well defined and given credibility by the well-researched factual aspects woven into the story. The author, Sally Fernandez, has crafted a detailed and plausible novel that has the reader wondering whether they are reading fact or fiction, which is a tribute to the writing skills of this author. I was enthralled from the beginning; this is truly a page-turner and impossible to put down. The settings and scenarios are well described and well written with visual descriptions and authentic characters. Certainly an author to read more of, Sally Fernandez does a very credible job in Climatized and Max Ford is a key character to follow."

RUFFINA OSERIO, Readers' Favorite, 5-Star Review  "Climatized: A Max Ford Thriller by Sally Fernandez is a novel with strong hints of a political thriller, a narrative that is as relevant as it is intriguing, and a delightful read for fans of sleuth and gritty investigation stories. We get hints of the setting at the start of the novel, a time when everything had changed, the country had stabilized and "support for the president's plan had gained momentum. America was once again sailing on course.
Maxine Ford is a retired Intelligence Agency director, a skilled investigator who can't put aside her passion to dig for the truth. When the wife of a well-loved senator hires her to investigate the untimely death of her husband, Max begins to uncover very unsavory facts. Three renowned scientists scheduled to testify before the senator's investigative committee are murdered a few days before the date of the testimony and the fourth one is missing. Max and her associate are about to face a powerful cabal that could be behind the killings and the threat of a multi-trillion dollar business industry. With compelling evidence, will the president make the choice to bring down a ruthless organization or take the easy way out?
Sally Fernandez has crafted a gripping thriller with an exciting cast of characters and has successfully woven the themes of global warming, crime, and sleuthing into the narrative, making the story relevant and realistic. The story has strong plot points and nothing—and I mean nothing—is what it seems. I enjoyed the characters, especially Maxine and Jackson. The characters are real and their humanity is deeply explored. The author keeps the story deft and balanced, skillfully introducing suspense and holding the reader's interest through each page. Climatized: A Max Ford Thriller is the kind of book that keeps the reader on the edge of their seat, told in a hypnotic voice and structured to propel readers from one exciting chapter to the next."

K. C. FINN, Readers' Favorite, 5-Star Review  "Climatized is a high octane political thriller by author Sally Fernandez, and part of the Max Ford Thriller series. Max is a woman on a mission with an extensive career in various fields of intelligence work. Determined to break out from the corporations and powers that she's been working for, Max sets up as an independent private investigator. The wife of a dead politician hires Max when the police want to sweep her husband's death under the rug, and the plucky investigator soon discovers that there's a conspiracy regarding climate change that the victim was involved in. As scientists become victims too, Max finds herself trapped between politics, big business and the truth of global warming, with a terrible decision to make.
I think that the concept of climate change really makes this an apt and bang up to date thriller for the modern age. Sally Fernandez presents the corrupt ideology of big money business and its connection to politics with a sharp intellectual eye, but she never loses sight of providing plenty of action and interest in the tale for readers either. Max is a tough investigator who doesn't let her gender get in the way of progress, and I really respected the fact that the book didn't become solely about her as a woman. The events unfolding in this thrilling mystery are far bigger and more frightening in a realistic way, and I felt they were done true justice throughout the novel. Overall, Climatized is a highly recommended, intelligent and exciting read."
DR. JAY LEHR, Science Director of The Heartland Institute "Never will you be forced to the edge of your seat in a mystery thriller while being steeped in scientific education of great importance to humanity." Read More […]
DR. HAROLD DOIRON, Chairman, The Right Climate Stuff research team "Climatized is murder-mystery thriller, full of political intrigue and meticulous scientific accuracy, that gets about as close as you can get to the truth…and still call it fiction."
DENNIS T. AVERY, New York Times Bestselling Co-Author of Unstoppable Global Warming: Every 1,500 Years  "In Climatized, Sally Fernandez has deftly created a novel out of perhaps the biggest deception in the history of the Modern World. She has made herself a credible expert on the real causes of our mostly natural global warming, and on the members of the cabal that has misled us. She also presents a plausible scenario that a very cold 60-year solar minimum will descend on the planet soon, with or without any change in human CO2 emissions. The plot to create a world government of unelected bureaucrats will thus be brought down by the very natural cycles the deceivers have tried so hard to deny. Then the Western World will have to turn around the deadly and ultimately ruinous 'environmental' policies which have held us in thrall for the last 30 years."
TOM WYSMULLER, NASA, The Right Climate Stuff research team  "Sally Fernandez' novel Climatized is a Tour de Force of exciting fictional characters engaged in non-stop action juxtaposed within a context of real people, current day politics, and factually accurate information. She has found a stunningly innovative way to draw attention to one of the great issues we're dealing with today!!!"
LAURENCE I. ("Larry") GOULD, Professor of Physics (University of Hartford), Former Chair New England Section of the American Physical Society, Member of The Right Climate Stuff research team  "Sally Fernandez has written an exciting novel that interweaves politics and science.  Although it is a work of fiction, Climatized demonstrates that its author—having done her own investigating—has not been taken in by the hype of so-called 'climate change/global warming' that continues to be prominently propagated by a host of politicians, media, scientists, and administrators of major scientific societies.  Readers of Climatized can expect adventure plus enlightenment."
KEN YOUNG, Former NASA Engineer  "Sally Fernandez' fiction writings are fast-paced, well-plotted and very entertaining. She develops interesting and unique characters, especially for her protagonists and villains. Her plots are generally based on realistic situations and conditions. Fernandez' "Climatized" draws on scenarios relative to the controversy over Anthropogenic Global Warming that are not only realistic but greatly important to society."
R. A. HALPERN, B.A. (Honours) Oxford University, M.A./PhD. Princeton University  "Bernie Sanders says this election is about Global Warming, and if he's right then Sally Fernandez' latest novel Climatized, should be required reading for all voters! Not only a great read—exciting, suspenseful, with unexpected twists—but brilliantly researched and convincing about what really is at stake in the climate change debate. Four stars!"
MICHAEL DeSTEFANO, Author and Composer  "It's a tricky thing to lay facts over a fictional canvas to relate a story of such realism. An author who can paint that canvas convincingly enough for the reader to ask, "Did this really happen?", can truly say they've created a compelling piece of fiction, especially when the subject is something as hotly contested as global warming. Bringing any clarity to the "climate change" debate is problematic at best when the essence of true science is denied; that being, to question everything.
A naturally collaborative enterprise, true science is not validated by consensus. It's demonstrated to be irrefutable through experimentation. A theory may enjoy the support of many, but it's still just a theory until it's proven beyond doubt. When mounting evidence casts suspicion over that theory, and this same evidence is suppressed by powerful forces, it becomes exhilarating fodder for a political thriller." Read More […]
DON BRUNS, USA Today Bestselling Author  "Sally Fernandez has done her home work. Climatized is a thriller that will keep you turning the pages well into the night. Global climate change has become an industry, and as our heroin is asked to solve several murders, she realizes it's a deadly industry. Suspense, a gripping plot and a great new female lead. Climatized has it all."
ALFREDO S. VEDRO, Media Production Consultant, Florida  "Once again the author of 'The Simon Tetralogy' addresses an important contemporary and controversial issue, and once again she does it with believable characters and situations, sparse and terse plot development, crisp dialogue, and carefully researched science. No matter what your views are on the climate change debate, Climatized is an excellent read and will galvanize your mind."
DONNA POST, Banking Consultant (Ret.), Florida  "Where can you find intrigue, romance, conspiracy, corruption, and mystery wrapped up in one neat package.  The answer is Climatized!  The inaugural edition of the Max Ford Thriller series has it all.  Fernandez has delivered again—a great read with a character you will be eager to follow!"
KENNEY DeCAMP, Producer, Performer, and Mime, Florida  "Climatized has opened my eyes and Maxine is the new sleuth of the day to keep your eyes on. Reading this book, and then researching the named organizations and scientists in this storyline, has altered my views on climate change 180 degrees. Sally Fernandez adds suspense, wit, and reality in the making of this a new bestseller. For all lawmakers, it's a 'Must Read.'"
ANN E. HOWELLS, Wine Consultant, Florida  "Riveting, powerful, intriguing—I could not put the Climatized down! Fernandez once again brings the ignorance of man to the forefront. Will we remain sheep or will we break away from the fold? If we do not, we will be penned in and led to the slaughterhouse. It is time to start questioning our governments' true motives and who they actually benefit—US or THEM!!"
Share This Story, Choose Your Platform!