Here's the straight skinny…
If you relish suspense thrillers with a tinge of conspiracy, you'll enjoy Sally Fernandez' novels. Readers have said she pens riveting plots of intrigue and political awakening, seamlessly blending fact with fiction…or fiction with fact…you be the judge.
As a novelist of provocative political thrillers steeped in facts, she wasn't always twisting facts with fiction. Heavily endowed with skills acquired in banking, she embarked on her writing career. Her focus on computer technology, business consulting, and project management, enhanced by business and technical writing, proved to be a boon. Her books of fiction also reflect the knowledge garnered from her business experiences, while living in New York City, San Francisco, and Hong Kong.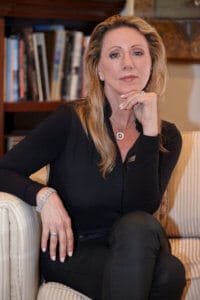 Sally's foray into writing fiction officially began in 2007 when the presidential election cycle was in full swing. The overwhelming political spin by the media compelled her to question the frightening possibilities the political scene could generate. As a confirmed political junkie, she took to the keyboard armed with unwinding events and discovered a new and exciting career.
Climatized is the fifth novel and the first in the "Max Ford Thriller" series, featuring Maxine Ford as the female protagonist. Her prior series, "The Simon Tetralogy," is comprised of Brotherhood Beyond the Yard, Noble's Quest, The Ultimate Revenge and Redemption. Each book provides an exhilarating platform for the next, with a gripping narrative that challenges the reader to put the book down. The ever-elusive Simon's daring escapes allow him to add unheard of dimensions to the classic cat and mouse game. Her development of the other characters has created a lasting bond between them and the reader, especially now that Max has taken center stage.
Sally combines her writing career with her role as co-host of America Out Loud Talk Radio. The new show titled Life, Liberty & The Pursuit of Pleasure gives Sally plenty of opportunity to let her words jump off the pages and engage others on the topics of the day.
As a world traveler, Sally has visited every continent and over fifty countries. Her adventure travels with her husband include a scientific expedition in Antarctica, four African safaris, archaeological digs in Majorca and Peru, along with high-altitude treks in Bhutan, Tibet, and Mongolia. Sally and her husband, also the editor-in-residence, split their time between homes in the United States and Florence, Italy.
For Subsidiary Rights Contact: Crystal Flores, Dunham Group Inc. crystal@dunhamgroupinc.com

For Media Inquiries Contact: Maryglenn McCombs, Dowling Press  maryglenn@maryglenn.com