Summary:
Max Ford The Movie
Release Date 2022
LOGLINE
In the aftermath of a terrorist attack and the unexpected death of her father, CIA agent Max Ford is plunged into an international climate conspiracy led by a shadow organization whose influence reaches the highest levels of our government.
SYNOPSIS
After disobeying a direct order and failing to prevent a terrorist attack at a climate conference in Milan, CIA agent Max Ford is relieved of duty and sent back to the US. The unexpected suicide of her father, a decorated senator, leads Max to uncover a connection between the events in Italy and the impending passage of a controversial climate bill that he was attempting to block. As she investigates further, Max discovers that three world-renowned climate scientists were killed just before they were scheduled to testify at a hearing being chaired by her father's congressional committee and a missing fourth scientist is the prime suspect in the murders and the bombing. Setting out to find the man and learn the truth, Max uncovers The Consortium, a powerful shadow organization controlling the levers of power around the world. As their true agenda is revealed, Max is in a race against time to stop a massive global conspiracy that is directly linked to her family and threatens the lives of millions.
GENRE
Political action-thriller based upon the award-winning Amazon bestseller Climatized by Sally Fernandez.
PRODUCTION/MANAGEMENT TEAM
STUART POLLOK
Max Ford's lead producer Stuart Pollok is the owner/founder of Saltire Entertainment, a production and media finance consultancy. He has served in senior management capacities in the entertainment industry for over 25 years. He started his career as an executive for producers Neufeld/Rehme at Paramount Pictures, who launched Tom Clancy's Jack Ryan franchise with Harrison Ford in The Hunt for Red October, Patriot Games and Clear and Present Danger. Stuart has originated, developed, financed, provided production services and overseen multiple theatrical features including New Line's Lost In Space, Disney's Flight Plan, Universal's Black Dog, BVl's The Three Investigators franchise and, most recently, the art-house performer A Quiet Passion by noted British auteur Terence Davies. Stuart is a former New York finance and M&A attorney and a Rotary graduate of Georgetown University Law Center. He is adjunct professor at the University of Texas at Austin and his alma mater, USC.
NOAM DROMI
Max Ford writer/producer Noam Dromi is the managing director of Reboot Studios. He is an Emmy Award-winning veteran writer/producer and marketing executive, specializing in creative content, media production and brand development for entertainment companies, consumer brands and non-profits. He co-created the Warner Bros/Alcon Entertainment Dolphin Tale franchise, which generated over $150M at the worldwide box office. He won the first Primetime Emmy for Virtual Reality in 2015 for his work as writer and producer of the Sleepy Hollow Virtual Reality Experience with the Fox Broadcasting Company. He was nominated again in 2018 for his work as Executive Producer of the AMC digital series The Walking Dead: Red Machete. He is an active member of the WGA, PGA, and Television Academy and serves as adjunct screenwriting professor in the School of Film and Television at Loyola Marymount University.
EVAN GREEN
Max Ford writer/producer Evan Greene wrote the 2017 film Ghost Recon Wildlands: War Within the Cartel, an adaptation of the global video game franchise based on the work of bestselling author Tom Clancy. The film was the first premium scripted project to premiere on the livestreaming platform Twitch and was Amazon Prime's first global day and date release. He was previously the CMO for the Recording Academy. where he served as chief storyteller for music's biggest brand, the GRAMMYs, for over 14 years. Prior to joining The Recording Academy. Greene spent 10 years in theatrical marketing at Walt Disney Studios and Columbia Pictures, where he was responsible for award-winning campaigns for a broad range of films including Spider-Man, Stuart Little and S.W.A.T.
SALLY FERNANDEZ
As award-winning novelist of the Max Ford and Simon Hall series, Sally Fernandez has woven together stories based on knowledge garnered from careers in banking, computer technology and consulting, while living in New York City, San Francisco, Hong Kong and Florence, Italy. As a world traveler, Sally has visited every continent and over fifty countries. Her adventure travels with her husband include a scientific expedition in Antarctica, four African safaris, archaeological digs in Majorca and Peru, along with high-altitude treks in Bhutan, Tibet, and Mongolia. Her travels and experiences, along with being a political junkie with a vivid imagination, enriches the mix. Sally's book Climatized forms the basis for the Max Ford Film.
JOE FERNANDEZ
Joe Fernandez brings decades of experience in mergers and acquisitions, organizational planning and development, employee and labor relations, policy development, employment law and communications to the Max Ford creative team. He currently serves as content editor and business manager for his wife, Sally Fernandez.
THE INSPIRATION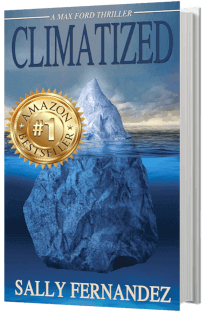 Share This Story, Choose Your Platform!