Purchase Now
Sally Fernandez is a novelist of provocative political thrillers who twists facts with fiction. Author of "The Simon Tetralogy" and the new "Max Ford Thriller" focuses on contemporary unvarnished political facts in a fast paced fictional setting.
Purchase Now

Ripped From the Headlines
by Jackie Minniti
January 2017, Page 20
Sarasota writer Sally Fernandez is a self-described political junkie. In fact, it was the 2008 presidential election that kick-started her writing career.
"I had a lot of questions leading up to the election," she says. "My husband challenged me to put my ideas on paper." Meeting that challenge proved to be the inspiration for a series of what she calls "thinking person's books" that weave contemporary political events into fictional plots.

Literary Scene
by Ryan G. Van Cleave
December 2016, Page 105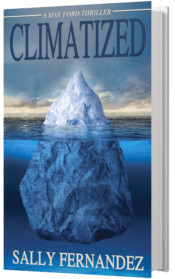 Sarasota author Sally Fernandez's new book, Climatized, delves deep into the issues of climate control and global warming. This new series' heroine, Maxine Ford, quickly realized that politicians might stop at nothing to push their own climate agendas forward.  Here's how it starts.
A&U Magazine


Ruby's Rap 


by Ruby Comer

May 2012, Page 30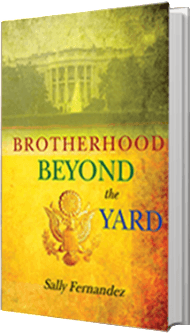 A&U Magazine Interview by Ruby Comer in her Ruby Rap's column. Questions and answers highlight the recent release of Brotherhood Beyond the Yard by Sally Fernandez; the first release in "The Simon Trilogy." Whatever "Simon says" you best take heed!