Purchase Now
Sally Fernandez is a novelist of provocative political thrillers who twists facts with fiction. Author of "The Simon Tetralogy" and the new "Max Ford Thriller" focuses on contemporary unvarnished political facts in a fast paced fictional setting.
Purchase Now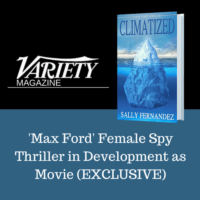 Variety Magazine Exclusive: Max Ford Female Spy Thriller in  Development as Movie
"Max Ford" will be produced by The Dunham Group in association with the Los Angeles-based Legion of Creatives, with an eye toward building Max Ford into an espionage action franchise around its protagonist character in the spirit of Universal's Jason Bourne series.