Novelist Interview: Thank you Jeanne Corcoran 'Up Close' WSRQ Radio for the opportunity for Joe and I to share the real-life influences that inspired 'The Beekeeper's Secret.'
'Max Ford' Female Spy Thriller in Development as Movie (EXCLUSIVE) Variety Magazine
"'Max Ford' will be produced by The Dunham Group in association with the Los Angeles-based Legion of Creatives, with an eye toward building Max Ford into an espionage action franchise around its protagonist character in the spirit of Universal's Jason Bourne series. (via) Variety Magazine. READ MORE…
CO-HOST FOR SEASON ONE
It's a gender thing…or is it?
World Peace, Religion, Sex, Money, Politics, Climate Change, Big Business, Big Ideas and Big Egos! Nothing is off limits.
Accomplished and Highly Opinionated Women GET LOUD with Malcolm Out Loud
 All shows appear on the Podcast Network at AMERICA OUT LOUD 
'Max Ford' MOVIE DEAL
Interview by ABC7 My Suncoast News
April 5, 2018, ABC7 My Suncoast 
A Suncoast author may soon see her work on the big screen! Sally Fernandez joins us to tell us all about her Max Ford series, and a potential deal to bring "Climatized" to Hollywood.
PLAY IT RIGHT HERE! 
Suspense Radio
Interview by John Raab
January 28, 2017
Big two hour show on tap for today with four outstanding authors. John DeDakis, Edward Kay, John Hegenberger and Sally Fernandez. Suspense Radio is where you will hear all your favorite authors along with discovering some new ones. Don't forget to check out all the shows on the Suspense Radio network. Crime and Science Radio, The Story Blender, and Beyond The Cover. We have a show for everyone, no matter your tastes.
Suspense Radio is brought to you by Suspense Magazine, visit the new Suspense Magazine website
PLAY IT RIGHT HERE…CATCH SALLY'S INTERVIEW AT THE 1:30:18 MINUTE MARK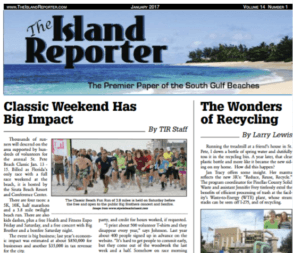 The Island Reporter
Interview by Jackie Minniti
The Island Reporter January 2017, Page 20
Ripped from the headlines. Sarasota writer Sally Fernandez is a self-described political junkie. In fact, it was the 2008 presidential election that kick-started her writing career.
"I had a lot of questions leading up to the election," she says. "My husband challenged me to put my ideas on paper." Meeting that challenge proved to be the inspiration for a series of what she calls "thinking person's books" that weave contemporary political events into fictional plots.